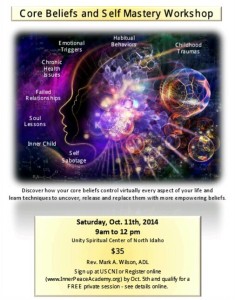 Discover how your core beliefs control virtually every aspect of your life and learn techniques to uncover, release and replace them with more empowering beliefs.
Saturday, October 11th, 2014
9 a.m. to 12 p.m.
Unity Spiritual Center of North Idaho
$35
Register by Oct. 5th and receive a FREE private session. Your private session will be scheduled after the workshop.
To Register – Simply complete the form below.
[contact-form][contact-field label='Name' type='name' required='1'/][contact-field label='Email' type='email' required='1'/][contact-field label='Comment' type='textarea' required='1'/][/contact-form]